Lets talk about floor lamp shades...
At Candid Owl, we have been asked this question many times:
"What style and size lamp shade should I select for my floor lamp?"
Well, here you will find our step by step guide to choosing your perfect floor lamp shade.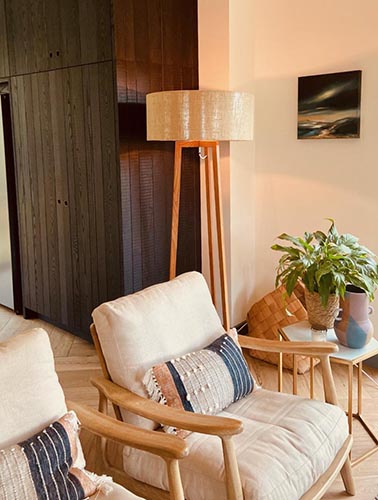 Large Natural Hessian Lampshade with Wooden Tripod Floor Lamp, Image courtesy of Michelle.
1. STYLE OF YOUR FLOOR LAMP
Generally, floor lamps fall into one of two styles - a narrow, single column usually between 5 - 15cm in width. Or a tripod style which has 3 legs and covers a much larger surface area.
2. LAMPSHADE SIZE
If you already have a lampshade in place and are happy with the shape and size then great! Simply replicate this with your choice of fabric. However, it's not always this easy - if this isn't the case for you then read on.
A good rule of thumb for a single column floor lamp is a shade with a minimum diameter of 40cm; this will always be at the widest point of the lampshade so if you are selecting a tapered shade then this will be the base diameter, measured from one side to the other. For a circular drum style, the top and bottom diameter will be the same. The 40cm size of the lampshade will balance out the height of the lamp whilst not overpowering it, bearing in mind the base itself is only a thin column. (NB. this isn't a hard and fast rule though, as will be explained further on).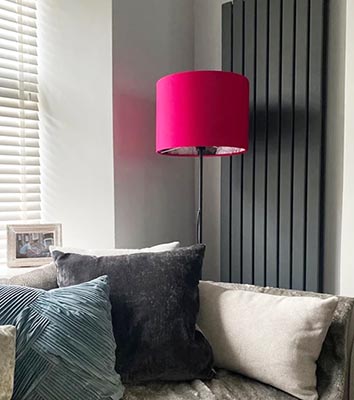 Cerise Pink Velvet and Floral Lined Lampshade with Column Floor Lamp, Image courtesy of Sophie.
A tripod floor lamp however, is a completely different beast! The 3 legs create a much larger footprint that will need to be balanced out with the size of the lamp shade. To measure, simply run a tape measure around the 3 legs of the lamp at floor level (their widest point) and this will be your minimum size for the diameter of the lamp shade. Many modern tripod lamps have a large surface area nowadays and so can accommodate a large statement lampshade; perfect if you're looking to purchase from our range of lampshades, most of which run to an extra large 70cm diameter size.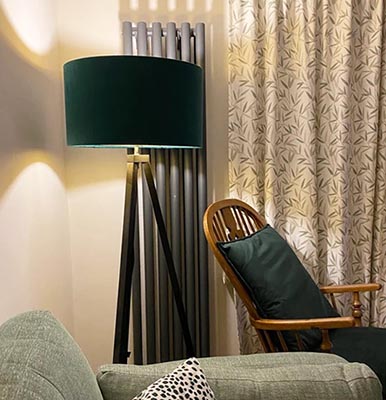 Green Velvet Lampshade with Tripod Floor Lamp, Image courtesy of Katherine.
3. WHERE WILL THE LAMP SIT?
Will your lamp be sitting pride of place, in a prominent position and with plenty of room around it? Then the world is your oyster! You can simply select any size which suits your lamp and any style which calls to you.
Alternatively, will your lamp be tucked away in a corner? If so, you will need to think about a more space saving option. This is when the minimum 40cm diameter rule doesn't apply; if you have a slim column lamp, then you can opt for a smaller diameter, but this will need a taller height to balance out the height of the lamp base. For instance, a 35cm diameter with a 35cm height lampshade could work very well. Some of our clients have even opted for a 50cm height cone lampshade to sit on their floor lamp, creating a very striking feature!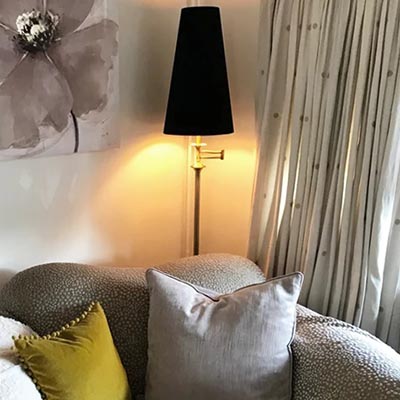 Extra Tall Black Cone Lampshade with Column Floor Lamp, Image courtesy of Jan.
4. LAMPSHADE STYLE
Lamp shades come in many shapes; whilst this can be great, it can also give a little too much choice on occasion.
Here are a few examples of lamp shade styles, with the first 2 being the most popular choices for a floor lamp:
| | | |
| --- | --- | --- |
| CIRCULAR DRUM | A straight sided lampshade, with the top and bottom diameter's measuring the same. This contemporary style gives a modern feel and allows a lot of light to shine from the top and bottom of the shade. | |
| TAPERED | Also referred to as a French Drum, this shade has a gentle taper with the top diameter being smaller than the bottom diameter. This style of shade has a more classic feel and suits traditional fabrics and solid coloured lamp shades. | |
| STEEPLY TAPERED | Also referred to as an Empire, this style of lampshade has a substantially smaller top diameter in relation to the bottom diameter, creating a steeper taper. This style more commonly suits a table lamp but personal preference is always important when selecting a new lampshade. | |
| OVAL | Remember when we talked space saving? This is where the Oval style really comes into its own. With the depth of the shade being shallower than the width (diameter), this style is perfect for a floor lamp which is sitting close to a wall. | |
| SQUARE | Finally, the Square. Each side is the same length, as well as the height, creating a cube effect. This style suits a floor lamp which has a square or rectangular design, with the corners of the shade and the lamp base complementing each other. | |
5. LAMPSHADE LININGS
The final thing to consider when selecting your floor lampshade, is how will it be viewed? Floor lamps have a higher view point than that of a table lampshade and therefore, the inside of the shade can be seen clearly from below. If your lamp will be situated next to a seat/sofa etc, making a feature of the lampshade lining can be a real design feature for someone seated beneath it.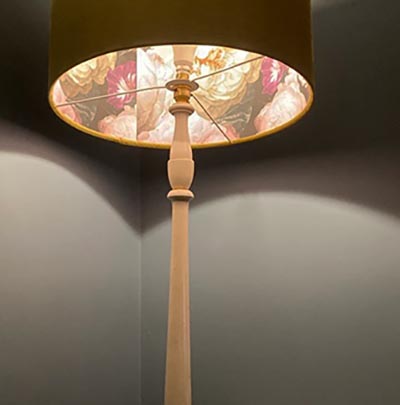 Mustard Velvet Lampshade with Floral Lining and Column Floor Lamp, Image courtesy of Anna.
Still uncertain which size and style to choose? You can always reach us here, we're always happy to assist you with any of your lamp shade questions!
Or why not give us a call on 01386 834555
Recent Posts
Lets talk about floor lamp shades... At Candid Owl, we have been asked this question ma …